26 new building instructions for complete tracks and tricks with GraviTrax.
Step-by-step instructions in words and pictures!
Over 530 pages of building fun with GraviTrax!
New layout and helpful graphics
Parts list with every instruction
No 3D printed parts required!
More pages – same price!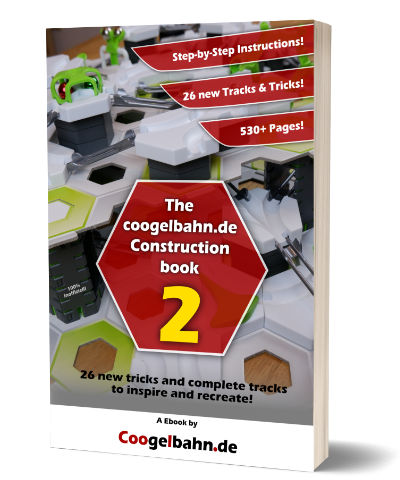 What do I need for this book?
As with its predecessor, the second edition of the "coogelbahn.de construction book" also offers building instructions for complete tracks, but is more intended to inspire you to build your own cool tracks.
If you only own a GraviTrax starter set, however, you won't be able to do much with the book.
Some additional extensions such as Magnetic Cannons, Jumpers, Scoops and also the new FlexTubes, Dippers and Balls&Spinners are used in the book and you should definitely own them, as well as other starter sets from GraviTrax and GraviTrax Pro.
The tunnel and bridge extensions are also helpful. For the tracks with GraviTrax Pro, only the vertical parts of a maximum of one Pro starter set and one extension set are used.
For the ever-present lack of height stones, there is a craft template for your own height stones to print out in the first Ebook!
You can see pictures of the contents of the book further down on this page!
What do I get?
PDF file (approx. 100 MB)
534 pages, fully illustrated
Usable on computer, tablet etc.
You will receive the book as a PDF file. You can save it on your computer, smartphone or tablet, open it and use it directly on your "construction site". The file is approx. 100 megabytes in size. Each building instruction contains a list with all the parts that are needed.